Free Full-Featured Facebook Video Downloader
Download Videos from Facebook in HD Quality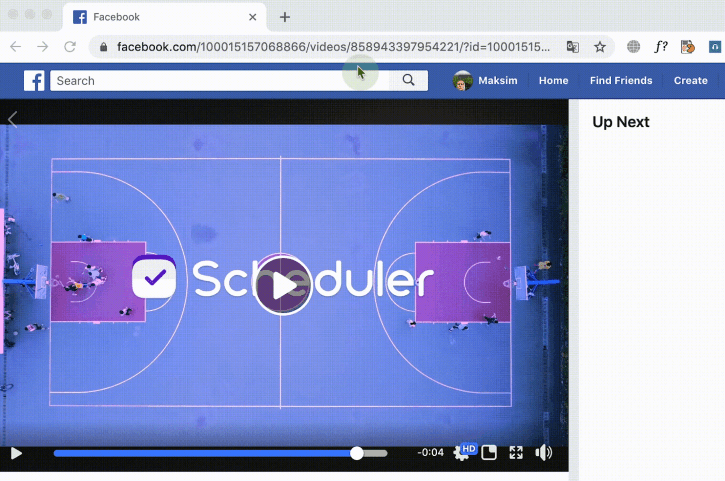 Facebook Video Downloader is a desktop application for Windows, Mac and Linux, developed to make video downloading easy as pie. With this powerful yet easy-to-use tool you can download video in 8K, 4K, 2K, HD 1080p, HD 720p and HQ. Extract audio in MP3, M4A and OGG, transfer videos and songs to your iPad, iPhone to enjoy on the go. Download Facebook videos at lighting speed, access blocked content, and more.
Get 4K Video Downloader+
Download
Download Facebook Videos in One Click

When you download lots of Facebook videos in a row, you can feel just how much time is wasted on the repeated parameters selection. Clicking 'Download' after inserting each Facebook video URL quickly becomes annoying if you've got a few dozens of videos to get. However, the downloader relieves you from manual work with its Smart Mode feature. Select your preferences just once and the application will automatically start saving all subsequent links to Facebook videos in the correct format and quality right away.

Download Multiple Facebook Videos at Once

Avid Facebook users video content lovers are always on the lookout for the most efficient way to download Facebook videos. We developed the downloader to handle the simultaneous downloading of multiple Facebook videos. Don't expend the time in pasting Facebook links one by one! Save a list of links to interesting Facebook videos into a text file and download all at once. Download all Facebook videos in an instant!

Save Facebook Videos Without Conversion

In the digital age we have the advantage to enjoy our favorite shows, music clips and other videos, any place and time. But the very mobile devices that grant us that access and freedom, also tend to only read specific formats. Downloading and transferring take enough time on their own, for users also having to convert each file. Don't waste time on conversion — download Facebook videos in the needed format right away! Choose from a wide range of popular audio and video formats, including MP3, MP4, MKV, FLV, 3GP.

Access Geographically Blocked Videos

Not all videos posted on sites such as Facebook and YouTube are freely available to all users. Video authors may restrict viewing of videos in certain countries and regions to avoid possible violations of local laws; Chinese government banned access to Facebook altogether. But there is a solution! With Facebook Video Downloader, you can get around the restrictions by using a built-in proxy setup. Moreover, you can even download blocked YouTube videos and access age-restricted YouTube content.

Extract Audio from Facebook Videos

Facebook is home to a countless number of different communities, with many users sharing exclusive content, i.e. rare music show recordings or your local band's music video. When you scroll down your Facebook feed and stumble across a video you want to extract audio from, Facebook Video Downloader is the very tool you need at hand. Download Facebook video in MP3, M4A and OGG formats. Listen to your favorite tunes offline wherever you are!

Save Videos From YouTube and Other Sites

Facebook is a great but not the only source of video content. Why switch between dozens of applications to download from each popular video site when Facebook Video Downloader supports them all? Download videos from YouTube, Vimeo and Instagram, save Twitch streams and Flickr videos. Download an unlimited number of YouTube videos, save YouTube playlists and entire YouTube channels. Back up your YouTube channel library and automatically download all new videos from your favorite YouTube channels.
How to Download Video from Facebook
Step 1 - Install and launch Facebook Video Downloader.

Get 4K Video Downloader+

Download

Step 2 - Copy the link to a Facebook video.

Step 3 - Click 'Paste Link' in the downloader.

Step 4 - Select the format and quality.

Step 5 - Click 'Download'.
FAQ
Is it harmful to my computer?

We care about the quality of user experience, as well as about the reputation of our software. Because of that, we've made sure that it doesn't contain any adware or malware. It's regularly checked by 52 reputable antivirus programs, see the latest report.

Does it support 4K video download from Facebook?

Yes, it absolutely does! We've developed the downloader to get video in the best available quality and highest resolution.

If you are interested in downloading video in Ultra HD quality from other sites, you can easily save 4K and even download 8K video from YouTube, Vimeo and other video services with this video downloader.

How to download blocked Facebook videos?

It depends on what grounds the video was initially blocked and whether it's available to watch on Facebook. In case the video is blocked due to copyright violation or similar issues, it's most likely not available on Facebook, therefore it also cannot be downloaded.