How to View Friend's Instagram Feed as Your Own
It's natural to be curious about what your crush, friend or family member sees on their Instagram feed. 4K Stogram allows you to view Instagram feeds of other accounts without being intrusive. You don't need to look over anybody's shoulder or get access to other people's phones and accounts! Follow the steps below to view your friend's (or any other public Instagram account's) feed on your computer.
Follow these easy steps to see anyone's Instagram timeline:
1. Launch 4K Stogram.
Get 4K Stogram
Download
2. Log into your Instagram account in-app.
3. Type the name of your friend's Instagram account into the search bar.
4. Select a suitable option from the search suggestions.
5. Click the Download button.
6. Right-click the field of the account in-app.
7. Select the Subscribe to < username > Followings option.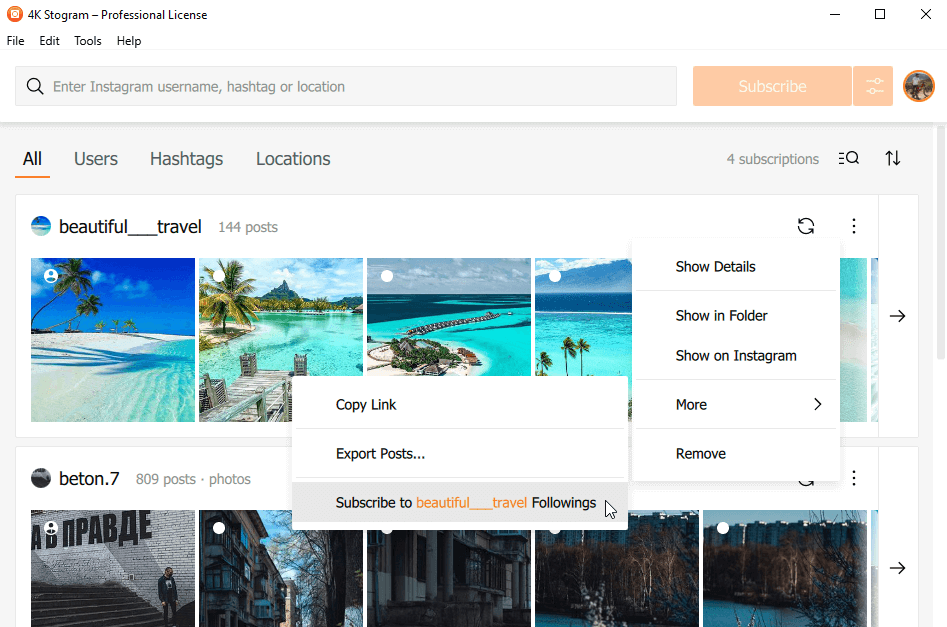 That's it! All posts from the accounts your friend is following are going to appear on your desktop. You will be able to watch new posts pop up in 4K Stogram in real-time as they are uploaded to Instagram. All that without actually following any of the accounts!