How to Remove Black Bars from a YouTube Video
Some videos on TV, laptops and other devices, have these either horizontal or verticals bars along the sides of the video image. The bars can quickly become annoying, distracting and eventually ruin the enjoyment, even if the video itself is of exceptional quality. These bars appear due to the aspect ratio difference of a video and a player, and are basically here to fill the empty space instead of cropping part of the image to fit it to the player.
YouTube updated its player in 2008, shifting from the standard definition of 4:3 to 16:9, the most common ratio for HD formats today. As a result, some videos, especially older ones do not match the aspect ratio of the widescreen YouTube player and most modern desktop video players. Follow the steps below to remove black bars from videos and enhance your watching experience.
1. Launch 4K Video Downloader+. It's available for Windows, macOS and Linux.
Get 4K Video Downloader+
Download
2. Copy the link to the YouTube video you want to download.
3. Click the Paste Link button in the downloader.
4. Select the format, quality, and output folder.
5. Click Download.
6. Hover the cursor over the downloaded file in the app.
7. Click the folder icon to locate the video on your computer.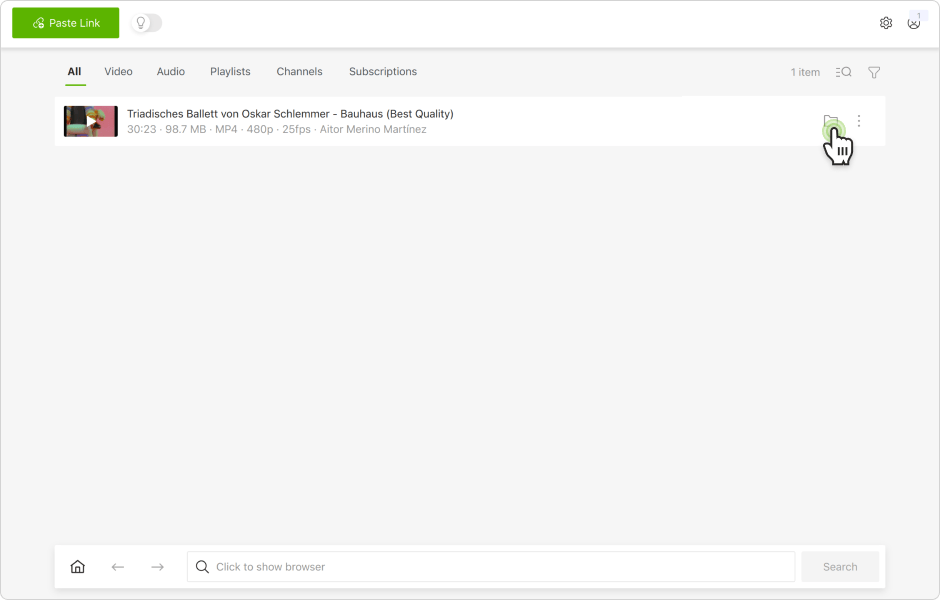 Note: Black bars can't be removed completely since there are many different video players and monitors of all sizes and forms, no video can match all at the same time. Below you can find the information on cropping out black bars from the popular video player VLC, and a table of common aspect ratios and associated player sizes.
How to Remove Black Bars from a Video in VLC
Click the video file with the right mouse button.

Select the Properties option in the drop-down menu (Get Info on MacOS).
Open the Details tab and check the Frame Height and Frame Width categories to learn the dimensions of the video.
Play the video in VLC Media Player.
Click the image with the right mouse button, go Video > Aspect Ratio.

Select the aspect ratio option that matches the dimensions of the video. To figure out the correct aspect ratio, check the table below or use an online aspect ratio calculator.

| | |
| --- | --- |
| Aspect ratio | Resolution (pixels) |
| 16:9 | 640x360 |
| 4:3 | 640х480 |
| 16:9 | 1280х720 |
| 16:9 | 1920х1080 |
| 16:9 | 2560x1440 |
| 16:9 | 3840х2160 |
| 17:9 | 4069x2160 |
| 2:1 | 4069х2018 |

That's it! Now that you've matched the video and player's aspect ratios, you can enjoy watching with no distracting black bars.
You can also watch a complete video guide "How to Use 4K Video Downloader".