How to Download Liked YouTube Videos
YouTube allows you to conveniently save your favorite videos to a native YouTube playlist called "Liked Videos." Previously, users could easily access and download the playlist using many different downloaders as long as the Liked videos were publicly available. However, starting in December 2019, the Liked Videos YouTube playlist was made private by default for all users. It became impossible to save the playlist with the majority of specialized services, but 4K Video Downloader+ is here to save the day and videos! Follow the steps below to download your Liked videos from YouTube.
1. Launch 4K Video Downloader+. It's available for macOS, Windows, Linux and Android.
Get 4K Video Downloader+
Download
2. Click the search bar. A list of different sites will open.
3. Click the YouTube logo. The site will open in the in-app browser.
4. Click the Sign in button and enter your login credentials.
5. Click ☰ on the left side of the in-app YouTube page.
6. Click Library, then scroll down the page.
7. Click Liked videos to open the list of your likes.
8. Click the Download button.
9. Select the format, quality, and output folder.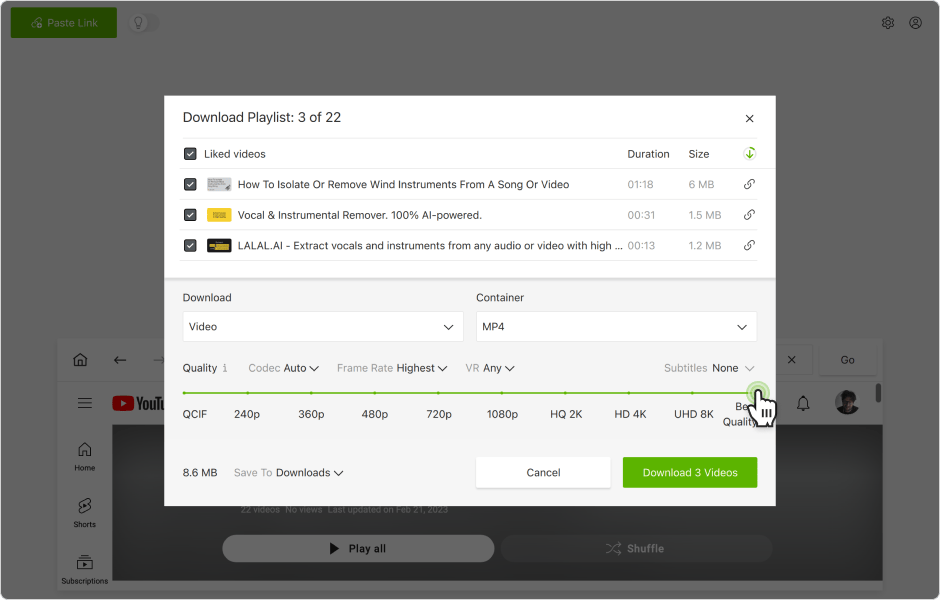 10. Click Download.