TubeMate for Android vs online.4kdownload.com
TubeMate for Android and 4K Video Downloader are two popular choices for downloading videos on your android device. But sometimes when you're downloading music, you don't want the video, you just want the audio. That's where online.4kdownload.com comes into the picture. TubeMate for Android also provides audio-ripping functionality, so which one of those tools is the best for ripping audio from video? Check out this comparison.
TubeMate for Android
Pros
Allows users to download videos from multiple sites including YouTube and Vimeo.
Downloading videos from YouTube is a simple task.
Cons
Ripping audio from video is a complicated task, recommended for advanced users.
Requires users to download and install their software.
Installs malware and viruses on the user's computer or device without notice.
Has HTML5 download issues.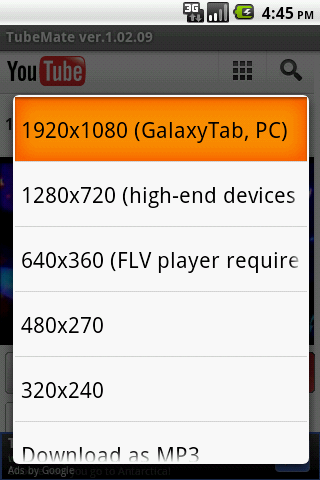 Online.4kdownload.com
Pros
Rips audio from video automatically, so even novice users have no problem using the tool.
No software program or app to download and install, so it saves room on your mobile device's storage.
Allows users to download videos from multiple sites including YouTube, SoundCloud, VEVO and Vimeo.
Automatically extracts the audio from video into the user's choice of MP3, M4A, or OGG formats.
As there is no software to install, it is 100% safe to use, and guaranteed to be free of viruses, malware, and all other malicious code.
Cons
Tool is web-based, so a working internet connection is required.
Summary
The 4K tool automatically rips audio from video and downloads the audio file to your computer or mobile device within seconds. TubeMate for Android requires users to download the entire video from YouTube, then they must go through additional settings in order to rip the audio from the video. TubeMate for Android can infect your computer with malware, which can be used by malicious attackers to steal your financial and other private information.
In this comparison, online.4kdownload.com is by far the safest and easiest audio ripper to use.